We encourage a community where every individual is welcomed. Moms and dads, athletes and students, young and the not-so-young, single and married…we are surrounded by uplifting people who inspire us to do great things. Our lifestyle is focused on the community; that's why you can find us in local events, racing for charity, or out and about supporting one of our Aminorip Athletes.

Fitness can mean different things to different people. For us, fitness is about feeling good about your body and working towards becoming the best "you" you can possibly be. It goes beyond striving for a better figure; it's about being physically active to improve your mood, health, and quality of life. It's about finding the right balance that helps you become physically and mentally stronger, happier, and healthier.

Optimum nutrition is vital for our physical and mental health. That's why, when it comes to your body and the nutrients you absorb, there's no grey area. There's only fact-driven, science-proven & decade-testing formulations of what works. Period. No proprietary nonsense, no fancy preservatives, no sugar coating. Only clean and safe products to supplement your nutrition and keep you grinding throughout the day.

SHOP AMINORIP SUPPLEMENTS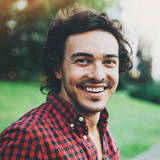 "We're able to test our way from a 5% conversion rate, all the way up to 20$. Without driving more traffic. Our client is getting four times the leads that he was getting before."